Need a Website?
Any current business needs a website, but to be useful it must benefit the organisation in some way, however, one must realise the results do not happen overnight. The first thing to though is have a professional looking website.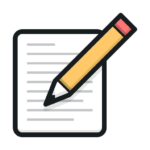 First thing of course is to call us and let us know what you would like to do, every website is a marketing tool which needs to attract customers attention and promote your product or service. If this is your first website you will need to register a domain name, we can assist with this..
Domain Name
This is the name you give to your website as it appears in the web browser, ideally it should be the name of your business or product/service. Unfortunately because there are so many websites out there you may not be able to get the name you want. It will look something like this:
www.bobs-burgers.co.za or
https://www.bobs-burgers.co.za
We'll explain the other bits and pieces later for now we're interested in the red part, that is the name you will need to choose. We suggest you choose at least 5 from most to least favoured, no symbols are permitted except a hyphen as above which makes it more readable. So bobsburgers would also have been acceptable.
What does the rest mean
The "http: or https:" indicates what type of protocol you need to view this item. The protocol is the way in which two systems communicate. Examples of other protocols are ftp
The "www" stands for World Wide Web. This is the name of the "host" computer where the web page is stored and is a common name given to computers connected to the web. However, it's not necessary for web addresses to begin with "www." The web page might also be stored on a host computer or server named something else..
The "co.za" part indicates that this page is coming from a company, the  za tells us it is in South Africa, there are other country based abbreviations such as co.uk for the United Kingdom, .com for commercial. There are literally hundreds of these if your interested see a full list here. No need to get complicated .co.za or .com are both acceptable and a lot cheaper than some of the others.
Hosting Account
Once that is all sorted out you will need a hosting account, this is simply a place where your website is stored so that it is visible on the internet, again we can help with this if you don't already have a hosting account.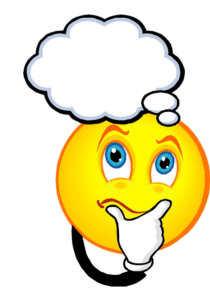 If you're an existing website owner you probably already have an idea what your website pages should contain but may wish to implement some changes. If you're new at this is here is what a basic layout would contain.
An introduction to the company
A company History (optional)
A product or service description
a portfolio with pictures
contact details
This is a very basic list and what goes there depends on the type of business you are in, a hotel for example could have a spa and several restaurants. You can even look at your competitors website to get some ideas.
Of course if it's an e-commerce website it gets a bit more complicated, you need pages with products, pictures and prices. So that the customer can select and order the product they want.
Then one would need to work out how the product would be shipped to the customer
Then there would need to be a means to pay for the product
Your Logo
Does your company have a logo? If you're a new business you may not have one just yet, we can help with this.
If you do have a logo we will need a copy in electronic format this will help us to decide what colours to use on the website as we do try to match them to the logo.
The Content
This is usually supplied by the customer, as they know their product better than anyone else, correct spelling and grammar is very important, short sentences and paragraphs are ideal. If you're not sure we can refer you to a professional copy writer.
Pictures
Pictures of the product(s) or results of the service are very important as it gives the website visitor a quick view of what you're offering. The pictures you send us should be of the highest resolution, most common formats are acceptable jpg, gif, png. Why do we want the highest resolution? Because although the image will be optimised for web use, the optimisation gets the picture a size which does not make the website load too slowly. If we start from a higher resolution picture. this is especially true of jpg pictures. See the example below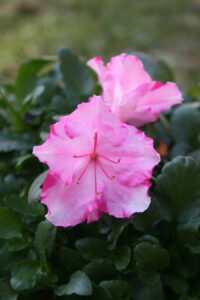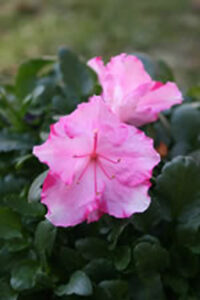 The image with the blue border was reduced in size from a high resolution image, the image with the red border was enlarged to the same size as the one on the left from a much smaller original. Can you see the difference? There is a loss of sharpness in the centre and the colours have become less distinct. Admittedly this is a relatively mild example and one could probably get away with it, but best not to take chances.

Yep, now it's our turn to do some work based on the information you have fed to us, to help you along we do have a checklist which will guide you through the steps, you can download a copy here, fill it in as far as you understand and return it to us.
What's in a name
At this point we will register a domain name out of the 5 you supplied, checking what is available and then advise you. We will also open a hosting account for your website, once this is done we will start building the website and at the same time optimise the pages for best SEO practices. During this time you will be able to see the progress with the link we provide.
By this time you should have also supplied us with the text content for each page as well as suitable, high resolution photographs for each page

As mentioned elsewhere on this website our aim is to build professional, mobile friendly websites for business. In the past we created four separate packages in order to make it easier for you, the customer, to understand. However, we have found that "mobile friendly" websites require considerably more work to create, as do on-line shopping websites, At the end of the day there is really no one price for a website it depends on what the customer wants and how much work we are required to do. So we will provide a quotation per job. However, there are some things we can offer a set price for, subject to change without notice, see the list below.
Adding a large product list to the website

R3 500.00

A separate catalogue

R250.00 / page

Monthly maintenance R650.00 (if there are frequent changes), this will provide 5 hours of our time each month for the maintenance of your website, should the 5 hours be exceeded the additional hours are billed at the Ad Hoc rate.
Ad Hoc maintenance (for less frequent changes) R250.00 / hour
Domain Registration: this costs R150.00 to register a .co.za domain and the same annually thereafter, a .com is R200 to register and the same to renew anually.
Hosting Fee: If you host with us it is R150.00 per month, this can also be paid quarterly or annually, the hosting fee also includes regular security updates to plugins used, this is important as it makes the site less hackable.
Monthly Packages
If you are on a tight budget our monthly packages may be useful to you:
Basic Brochure website including initial domain registration, monthly hosting, occasional minor maintenance changes and basic SEO work, it does not include Annual domain renewal, R650.00 / Month
CMS Type Website. This type of website is ideal for websites such as shopping websites where the information could change regularly, this includes initial domain registration, monthly hosting, occasional minor maintenance, basic SEO work. It does not include annual domain renewal. R850.00 / month. With this type of website it is possible for the customer to do their own changes, should they wish to do so then the monthly charge is reduced to R700.00 / month.
Monthly Maintenance
You may find that your website does require regular changes, it may be nice to be able to do it yourself but you just may not have the time. In addition to that some of the changes may be a bit more technical. Because of this we do offer a monthly maintenance service. This will basically give you 5 hours of our time at a reduced labour rate. Should that 5 hours be exceeded then every hour over the 5 is charged at the normal labour rate.
Mobile Friendly Conversions
Have you searched on Google recently? Did you notice some of the websites have the following text underneath the main heading "Your page is not mobile-friendly." does you google entry appear like this, click on the link you will be able to test your website. If you're happy with the basic design of your website, but if it's not mobile friendly and you would like it to be, we can convert it for you the desktop version will remain basically the same, there will be some compromises to make it mobile friendly mainly due to the smaller screen size. R500.00 / page converted. You can see below a before and after example of a mobile conversion.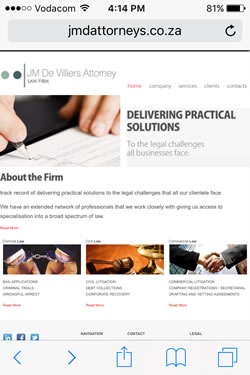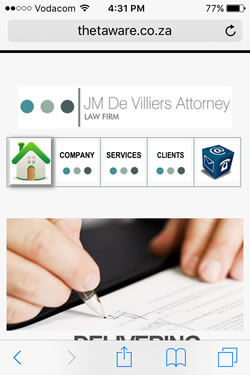 The image on the left is before the conversion, the one on the right is after mobile friendly conversion.
Search Engine Optimisation (SEO)
Basic search engine optimisation is always done as part of building a website which involves a substantial amount of work of ensuring suitable keywords, the length of the title, the length of the meta description and more. Although that helps it is not the end of the story. Don't believe the offers of getting you to page 1 on Google in a day, if they do they're cheating (violating Google's rules), and whilst they may get you to the first page you won't be there for long. Google quickly identifies these and usually kicks them off Google altogether. Proper SEO work takes time. We offer 3 basic packages starting at R1200.00 / month this will include a site analysis correction of any design errors, keyword search, monitoring of several other parameters involved in improving your SEO ranking on popular search engines. Read more…